Boy, I am EGG-sausted! << snort >> But seriously, I'm so excited because today is the first time I've had nothing at all to do in so long. I'm just going to stay at home and be with my kids. I'll try to handle this leftover mess from Easter, too....(in the very back of this picture there's a big bowl of brisket fat trimmings still sitting there from yesterday - bleh.)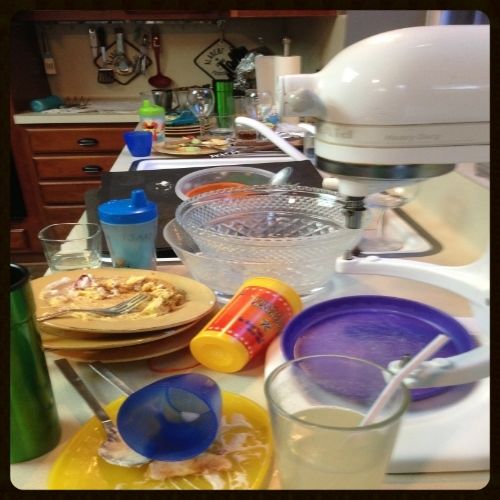 I have just been going nonstop for so long. It's been one thing after another...
Foundation repair >>> Thanksgiving in San Antonio >>> Christmas >>> Tiling bathrooms >>> Painting all rooms >>> Packing up >>> Living on the slab >>> Prague trip >>> Unpacking >>> Easter weekend
Then this weekend I sang at the 6 Easter services we had, only to follow the last service up with an Easter party at our house with the whole family. And while I really enjoyed it and love worshiping God in that way, it was time away from my family that I can't replace. It also meant that I couldn't give as meaningful a party to my extended family as I had hoped. I don't regret it; it just means that next time I will think more carefully before committing to something of that magnitude. I have such a bad habit of overcommitting, and it's so hard to discern sometimes.
So it was 4:30AM, and I was getting ready for my 7AM call time to do the last three of six services (after going to bed late from staying up to make 2 key lime pies, punch, and a brisket after being at church singing for 8 hours). But first I had to wake the kids up at 6AM to do the Easter Bunny egg hunt (they ended up waking up on their own, though - except for Isaac).
And I was thinking how ridiculous it all was, I opened up my
Future Me app
on my phone
(you can also just go to their website)
, and I wrote a note to myself to email me in late November that says just how I felt at the moment. I can't remember what it says exactly, but it's warning me not to volunteer for the Christmas sets at church. :-P I knew that all I would remember was the rewarding and fun part of the Easter sets and not the tough stuff.
There is a time for everything, and a season for every activity under the heavens...-Ecclesiastes 3:1
So while this does sound like a blog post about the regret I feel for not being with my kids on Easter, I also wanted to promote Future Me (no, they're not paying me - I just really like it). The next letter I'm going to write myself is to stop adding more things to my calendar just as soon as I clear it to make space for down time. #Insanity
I hope you had a good Easter. Remember to slow down, my friends. Love you all!