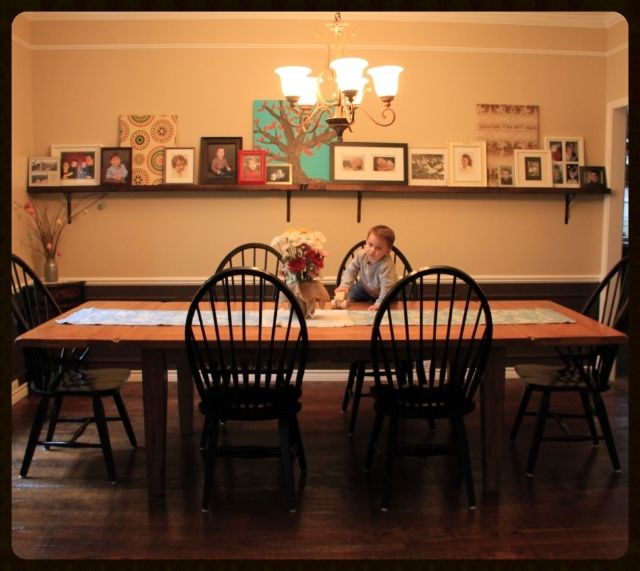 I have been wanting to put a picture ledge in this room ever since I moved in (I think...anyway, it's been a while). And every time we entertain I think about how our guests have nothing to look at on that huge blank wall.
Well, we were having company on Friday night, so on Thursday I thought, 'Just do it.'
So I went to Lowe's and got two 2x6x8 cedar planks and 4 brackets and some polyurethane. Well, last time I did one of these I only used poly, and it brought out a nice, rich color in the wood. So I wanted to do that again, but I screwed up and bought water-based poly instead. It didn't do the same thing as oil based poly, so I had to add some stain.
I made sure to put the knotty edge toward the front because I love the imperfections. I also loved this twisted wrought iron bracket. It had an oil rubbed bronze finish that matches my first floor hardware.
This plank, however, was a bit too rough on one side, so I had to put it on the underside. It didn't stain very easily, either. But all the rest of them were smoother, so they look great.
So I don't know if you can tell, but the two different planks were uneven by just a little bit.
Here's the proof. Grrrr!!
So I ran to the garage in search of something to fix my problem. Bada bing...a door knob plate thingy.
It worked. :)
Tada! My little guy was helping me by being my model. I just love the way it turned out. And I love that I can move all the pictures around whenever I want.
Linkin' up...