Well, 4 weeks past the original schedule, but we're finally not living in a concrete dungeon anymore. I will certainly not miss that dusty mess of a nest. We're not in my home, but alas, the concrete is covered. We had to be out of our house while they applied the moisture barrier, so many thanks to my wonderful mother-in-law for hosting us this week, and that I haven't had to make dinner! Quite nice, I must say.
They laid the wood this week after finally dealing with the moisture issue. It looks beautiful, too. I can't wait until they stain it.
Now to pick a color! We always felt like the floor at the last house (below) was a little too dark.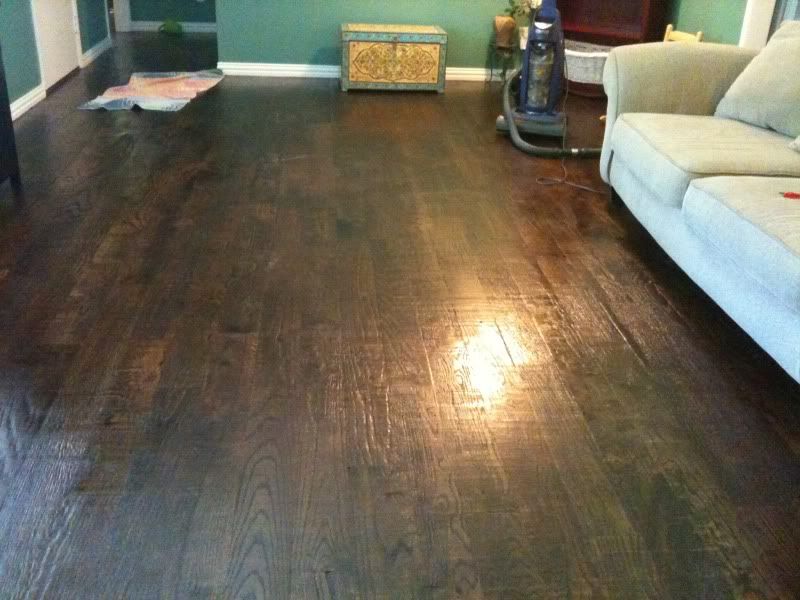 Floor stain at the last house....too dark?? We thought so.
So we had them put a four different colors down on our new floor so that we could choose one that we like (to be stained next Friday or Saturday), and we unknowingly ended up choosing the same stain color as the old house.
We haven't settled on it, and we'll actually probably end up a shade lighter, but it sure is pretty. And it looks really different than it did at the old house, maybe because there's more light.
Although, it always darkens up when you add your furniture, rugs, and curtains back. We'll see. I'm excited.
I'm tagging along with Michael on another business trip to Prague (which you'll definitely get some updates about), then when we get back, the cleaning and decorating fun begins!!!