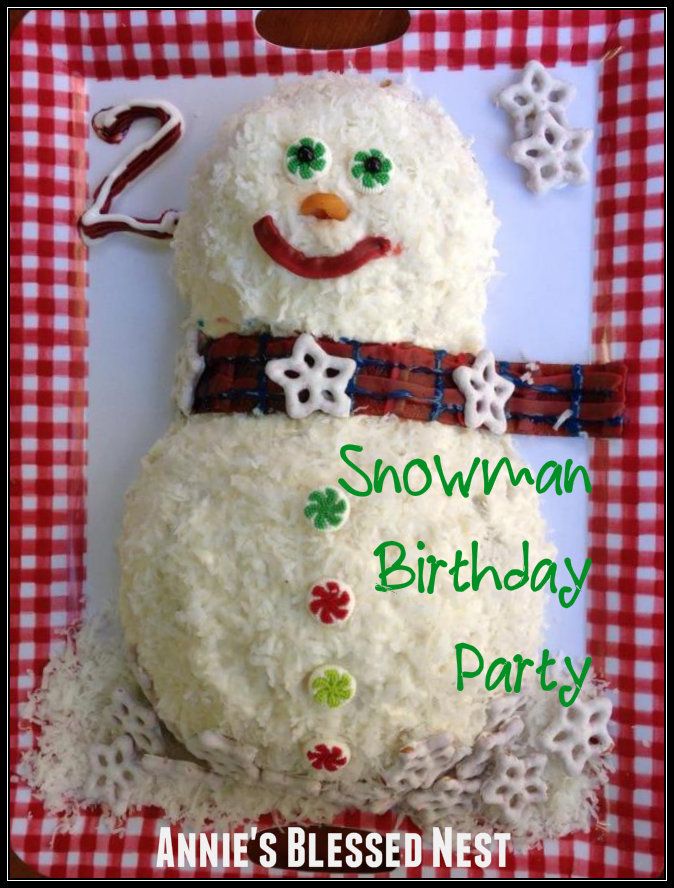 It's official. My baby is 2. I would say I can't believe it, but I really can. He didn't stay a baby for very long - crawling at 4.5 months and walking at 9.5 months. Nonetheless, he's my baby, and he's growing up.
We had his birthday party on Thursday night, and since he loves "no-men", I threw him a snowman birthday party. Which, by the way, is excellently timed for great clearance sales. ;)
So the first thing I needed to do was find a cake recipe that wasn't going to make me sick from sugar overload after the holidays. Well, I found one, but it kind of sucked. It was a good banana bread recipe, but it didn't make for a very good cake. BUT the soft icing topped with coconut made for an adorable snowman. The buttons are cake candy decorations that were on clearance at Walmart. The scarf is fruit leather from Aldi with decorative frosting as the plaid. And the snowflakes were peppermint pretzels on clearance at Walmart.
Then I had to make it snow. So I threaded some cotton balls up and taped them to the ceiling. I enlisted the help of my 6 year old to help me make some paper snowflakes, and I also bought a few felt snowflakes on clearance. When my 2.5 year old niece came in and said, "Look, it's snowing!" I definitely did a mental fist pump.
Then I searched the web for some games, and I put my own little spin on them so that they'd fit our crowd.
Our first game was pin the carrot on the snowman. Pretty self-explanatory, I'm sure.
The only kicker was that the adults were forced to play, too. ;) And toward the end, after I spun them around 3 times, I didn't point them in the direction of the door. The kids loved it. Free entertainment.
The next game only required a couple of rolls of toilet paper. Simple: girls against boys (aunts and uncles helped), and wrap the daddies up like snowmen and put three buttons on them (anymore was too much for my little ones). The first team to finish their roll of toilet paper and buttons won.
The dads here are playing up how beat down they were by the game, but that seriously made it even funnier. The kids loved it.
As the chaos ensued behind him, the birthday boy was oblivious to it and sneaking some more snacks.
The next game had two rounds. Round one was for the kids, and round two was for the grownups. We had three minutes to decorate an ice cream snowman. The kids' winner was chosen by whomever had the most stuff on it. The grown up winner was chosen by the kids. We played this game right before we cut the cake so that we could eat them at the same time.
Little bit was definitely more interested in finding his way into the snowman buttons (Mini M&M's) than anything else.
And of course the party favors were fun to shop for. I basically just shopped Christmas clearance for all of the snowman stuff. Behind the stuffed snowman and buckets are a snowman cookie decorating kit, a snowman s'mores and hot cocoa kit, a snowman cake pop kit, and a random Thomas bath set that I knew Isaac would like.
It was a fun party, and I think everyone enjoyed it. I know this guy did.