Okay, if you know me at all, you know that I LOVE Pinterest. I was one of its
earliest evangelists
. I'm just mad that I didn't come up with the idea myself. But here's my big beef….and it's not even really with Pinterest but rather Pinners.
What is the deal with all of the outrageous desserts!? I mean, seriously! I know that I'm a
broken record
, but seriously, anyone can make food that is delicious – anyone! The real skill comes in making it with integrity – using real ingredients that nourish your body.
Now before you start rolling your eyes, let me make the disclaimer that I definitely partake of the sugary, food-colored, overly processed desserts from time to time. It's a definite weakness. But I'd love to get to the place where I actually have the skill to pull off delicious but somewhat healthy desserts.
So anyway, of course this is going to be delicious; I mean look at it:
It's an Oreo inside a brownie with chocolate syrup on top! It looks amazing. And there are a ton of those recipes being pinned all the time. It's like people are just asking themselves, 'How can I take a regular dessert and add even more fat and calories to it?'
Where is the integrity in these ingredients?
Now look at these - Double Chocolate Brownie Batter Pancakes. It sounds like the very thing I'm complaining about, but...
....look at
these ingredients
! Definite integrity.
Or these No-Bake Oreo Cookies -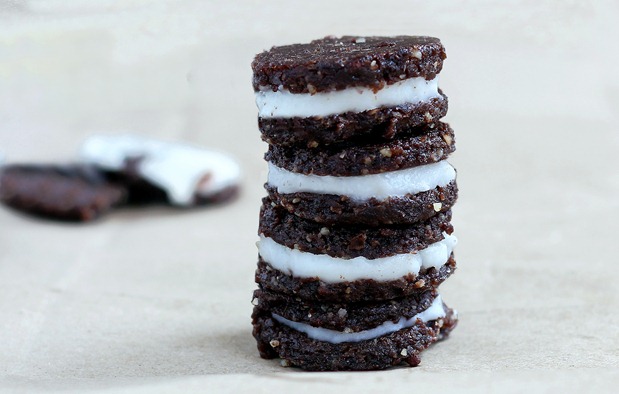 Look at
these ingredients
!
Or these chocolate covered bananas -
And here are
these ingredients
.
So I know I sound like I'm lecturing, but before you pin that cheesecake with chocolate chip cookie crust with Reece's peanut butter cups on top drizzled with chocolate syrup and sprinkled with M&M's, think about an alternative.
My current favorite recipe blogs are:
Gina's Skinnytaste
Chocolate Covered Katie
Super Healthy Kids
Okay, so now that I've gotten on my soapbox, allow me to step off and share with you my blatant hypocrisy.
AND!!!!
Oh boy. It's good to be humbled every now and then. :-P