Hello and Happy Tuesday! First of all, before I forget (I really wouldn't forget because I'm so excited about it), I'm guest blogging over at Crafty Scrappy Happy tomorrow!!! I'm so thrilled, and I hope ALL of you will come by and say hi. :) You'll LOVE Jaime's blog. I'm SO incredibly inspired by it all the time. She's so super creative! I'll be giving you my house tour, so you won't want to miss it!!!
So I told you my friend is letting me help decorate her wedding, and she very stylishly chose yellow and gray (it takes everything in me not to type grey) for her colors. I LOVE the colors, but for some reason here in Texas retailers haven't caught up with the trend yet because I can't find ANY cool fabric or paper prints in those colors. Oh well. I guess that's what creativity is for (except online, of course).
Since this bride is a visual person (as most women are), I decided to make a mock centerpiece to see if I was going in the right direction for what she wanted. One of her favorite inspiration pics on Pinterest has been this, but of course in yellow and grey gray.
So I came up with this below. It's not the final product but just the idea. Instead of silk flowers, of course, she's planning on fresh. And the doily and yellow placemat are just things I grabbed out of my linen drawer, but you get the idea. I have white fabric underneath because the tablecloths will be white.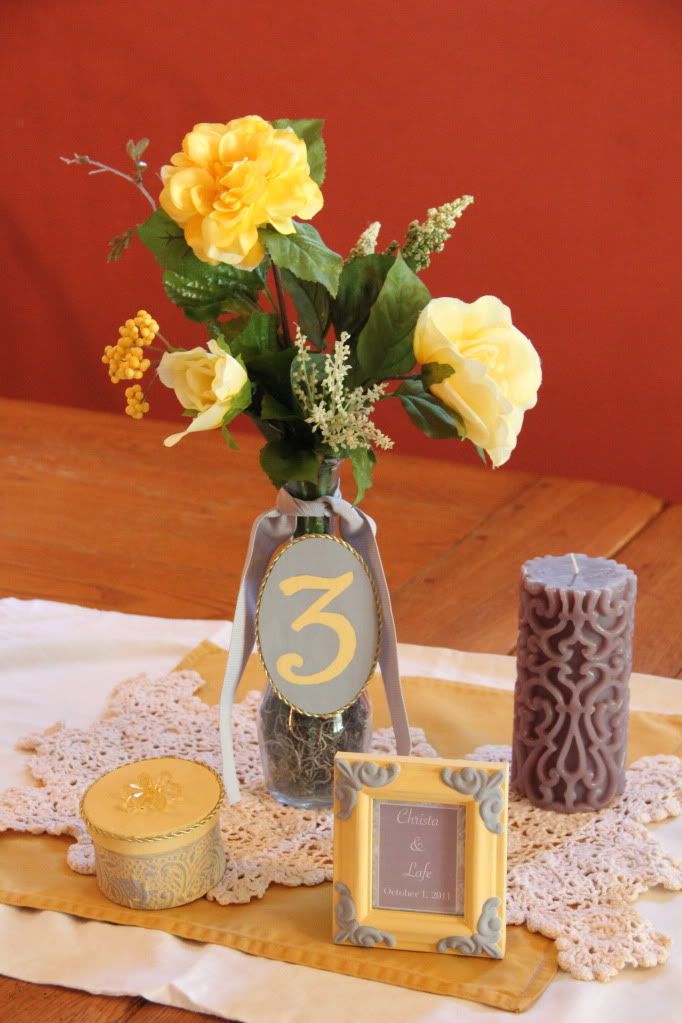 She likes it, although she wants a bolder yellow for the paint on the frame and round box and number. The number is, of course, the table number. We'll probably do a couple of votives, too, although it's an outdoor wedding, so we'll have to consider wind with the candles (maybe flameless votives, idk).
We'll probably also do different things on each table but all painted with the same colors. So they'll all have the same feel but without being matchy-matchy (not that that's bad, I just think this is more fun to do different).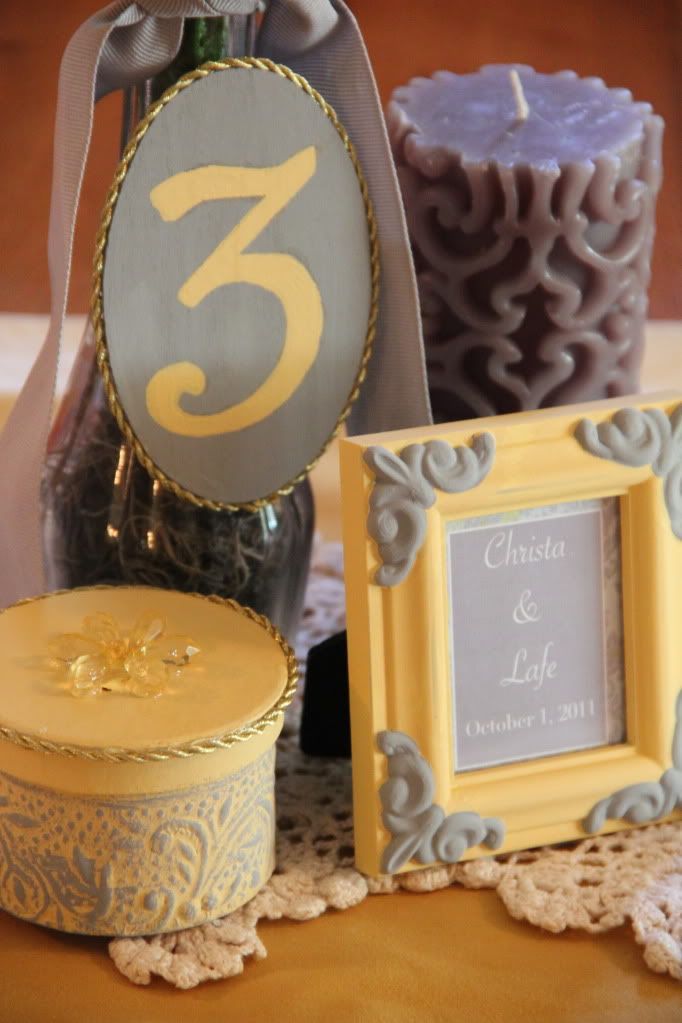 So now for the good part, how much it all cost:
-$1.47 Wooden oval
-$2.49 Picture frame
-$0.00 Spanish moss (had it)
-$2.40 Candle (on clearance)
-$0.00 Gold rope (repurposed)
-$0.00 Faux jewel beads (repurposed)
-$0.00 Paint (mixed it myself)
-$6.36 TOTAL
Holla!
(I'm not counting the silk flowers since she's not using them.) Not bad, I'd say! I love being cheap. :)