I'm SOOOO excited! We finally get to move back home today after our 3 1/2 week stay at a hotel while our wood floors got replaced. I finished up the very last of the cleaning at our house this morning, and now I just have to pack up the hotel room and move on home. My house right now is the cleanest I think it's ever been. We need to hurry up and have Thanksgiving dinner because it's not going to stay that way for very long! Everything was so dusty from when they tore out the 55 year-old floors, so everything had to be cleaned. Surprisingly the sanding of the floors didn't cause as much dust as the demo (that's demolition for you remodeling novices - hehe) did.
So anyway, here are the long awaited pictures. I'll give them to you in order so that you can re-live it with me. :) There were other better pictures on my camera, but all I could upload right now were my iPhone pictures, so you'll have to be satisfied with that. ;)
This is the demo of our master bedroom.
Goodbye square tiles.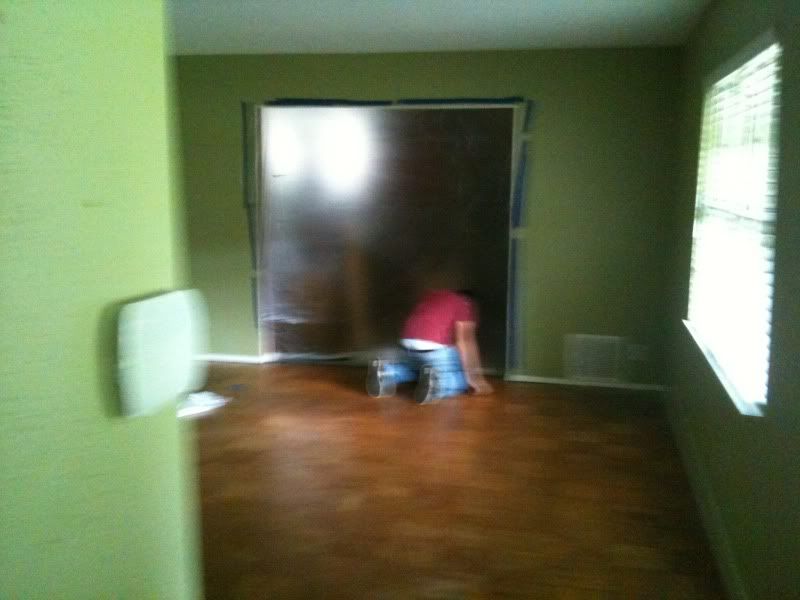 They taped off the dining room and kitchen, but dust still managed its way in there. Can you tell I obsessed about it? I think the dust is the first thing I talked about to anyone.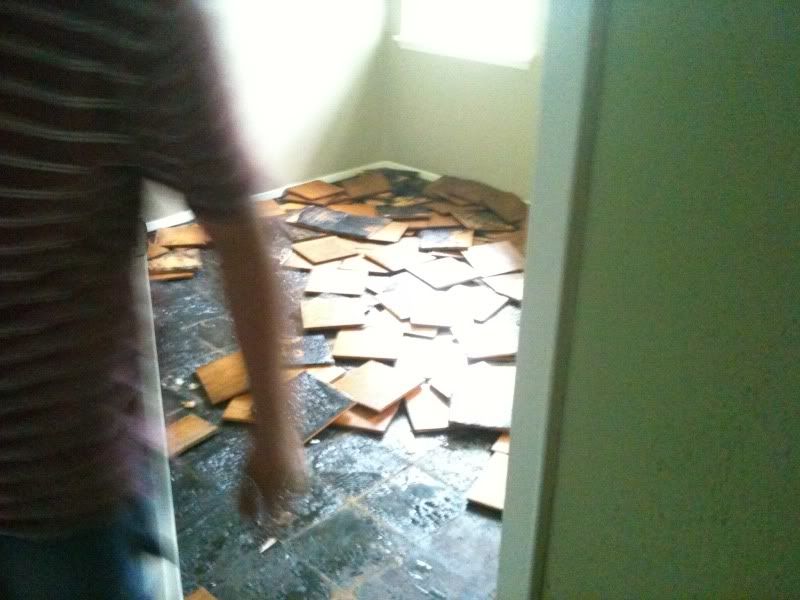 This is what will soon be the nursery. I don't think anyone uses that black tar stuff to put down floors anymore. It seems pretty archaic.
This is Samuel's favorite picture. He thinks it's so cool.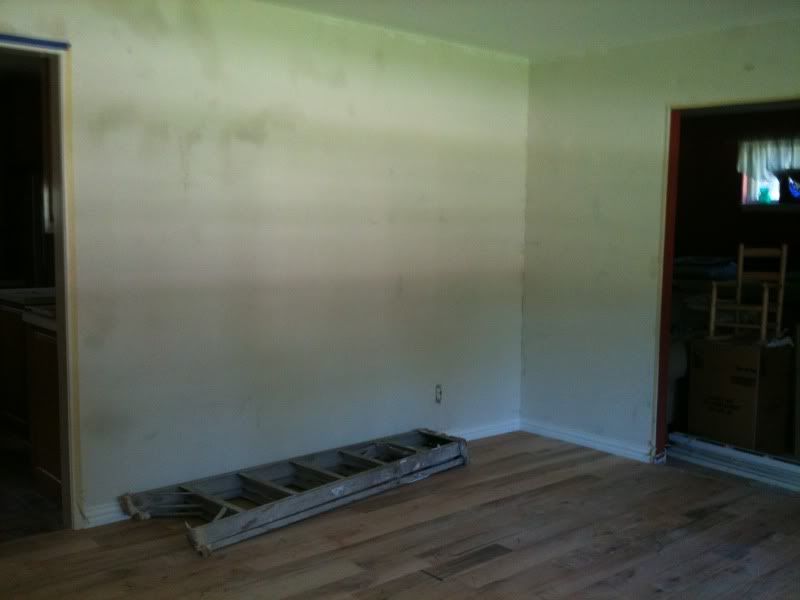 This is the living room after they put the floors down, baseboards in, and retextured the walls. I was so excited to get the walls retextured because they needed it really badly. There were so many embarrassing imperfections that I noticed all the time and felt that I had to point out to everyone that came over for the first time just so they knew that I knew it looked bad. :P So I'm dysfunctional, whatever. The texture they put up is really pretty, too, although I don't know what it's called. The floor, also, had to cure for 10 days so that it could settle and they could fill in the gaps and whatnot.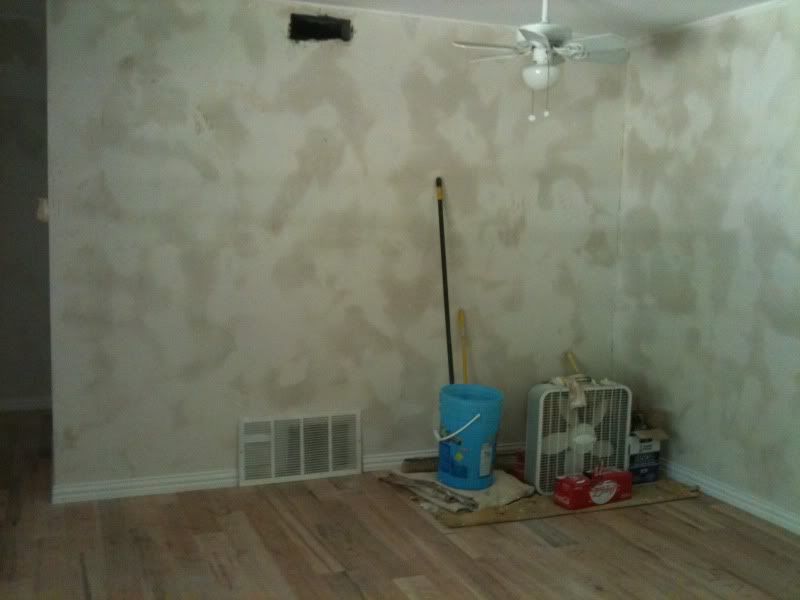 The texture was still drying, but I was so thrilled anyway that I took pictures.

This was the nursery before they put the stain and finish on the floors. I thought they looked cool without finish. The new baseboards were a really nice touch, too. We didn't paint any of the bedrooms because the boys' room and master bedroom were painted last October, and we're not painting the nursery until we know what we're having. They did, however, paint all of the doors and trim (everything white) in the bedrooms and bathrooms.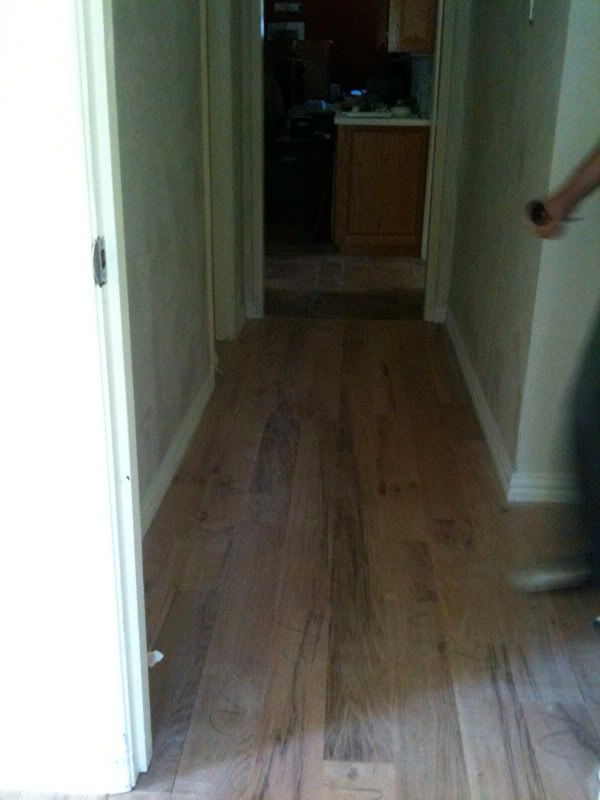 Here's the hallway looking into the kitchen from the master bedroom. I like that they boards go lengthwise on this part of the hallway. Also, note that there is no copper pipe going across the hall anymore. Good riddance, eyesore!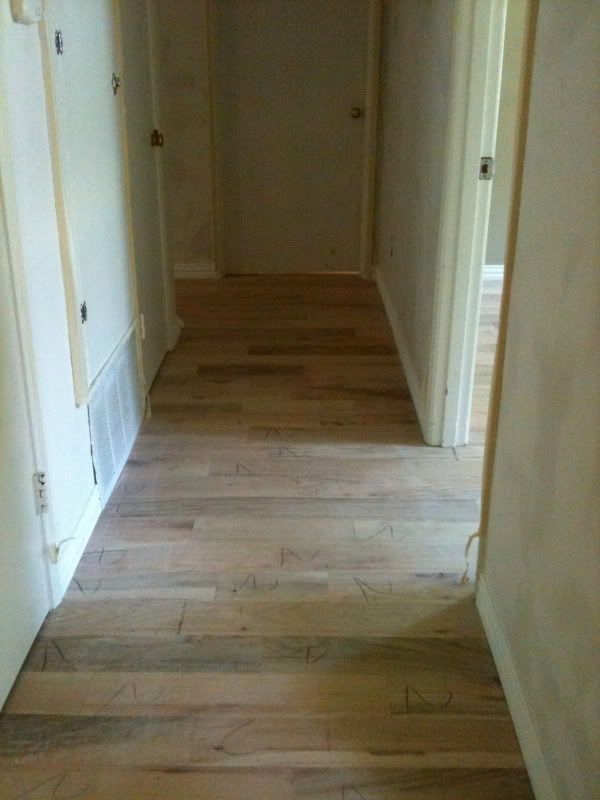 And this part of the hallway the wood goes across, which I like because it's not the part of the hallway that one typically looks down, like the other part.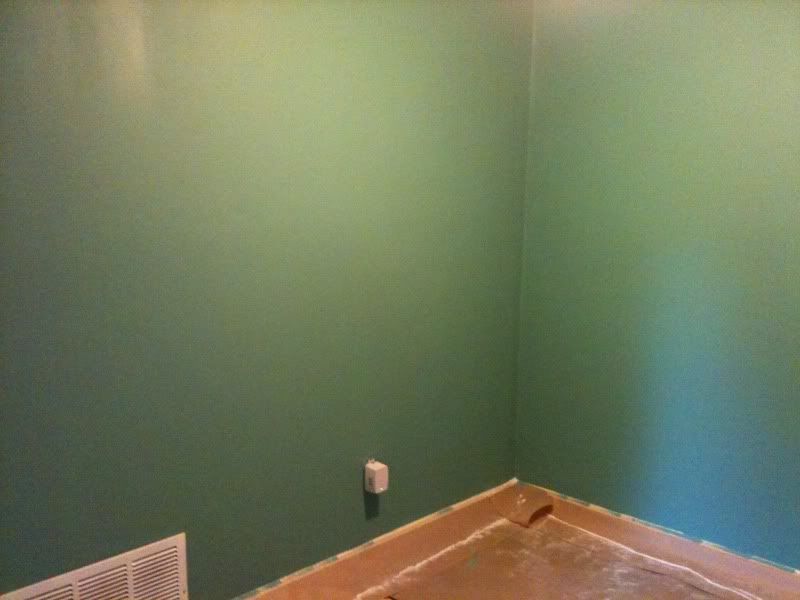 The color went up, and my nervousness about it totally went away (picking colors can be stressful). It's called "Green River". The last color was called "Rye Grass".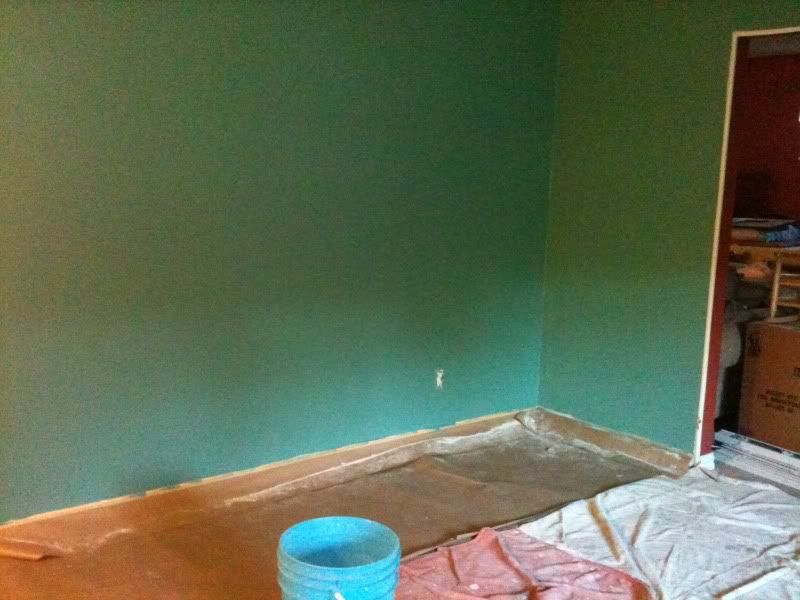 I think that the color goes really well with the red dining room. It fits with the other colors of the house really well, too.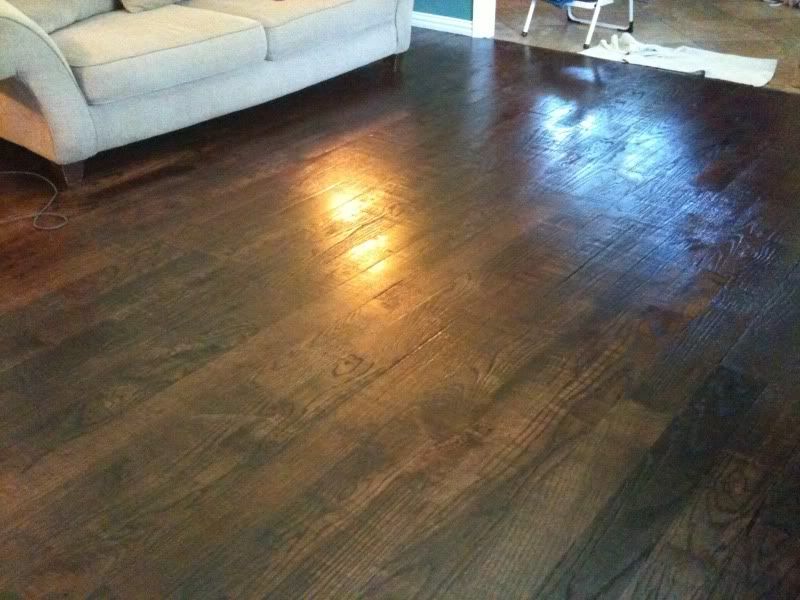 This is the living room floor after it was distressed, sanded, stained, finished, and dried before I put the rug back down. I was tempted to not put a rug in there, but we need it with the kiddos. After the last baby is older we'll get a much smaller rug to show off the floors more (and a coffee table when it would no longer be used as a launch pad).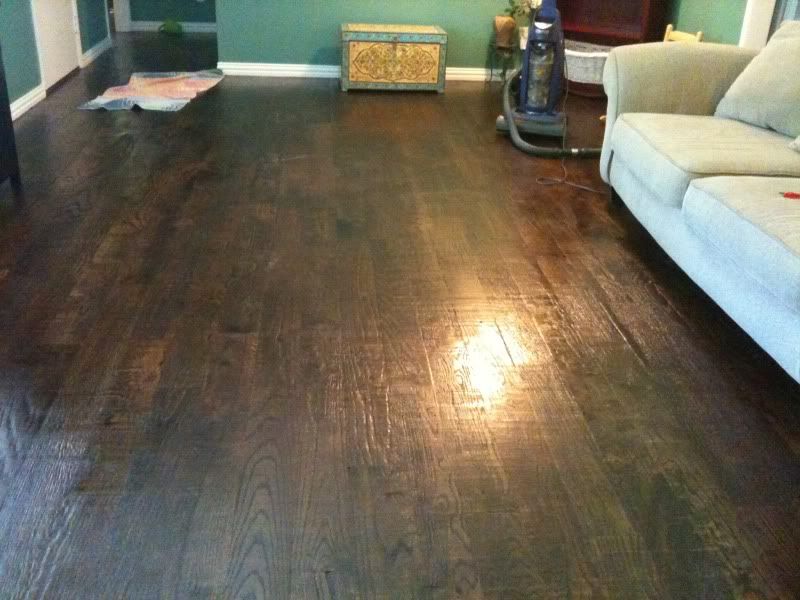 I was still cleaning up, so don't look too closely. ;) We decided to have the wood run lengthwise in the living room, too, since it's rectangle. I'm pleased with our decision.

The floor wasn't done in here, but after 2 1/2 days of cleaning everything spotlessly, I just had to take a picture of my clean dining room. It was such a relief. This was where ALL of our stuff from the bedrooms, closets, hall closets, and living room was stored for 3 weeks. It was stressful to look at it, but now it's peaceful again.

This is my almost complete living room. I haven't hung anything back up on the walls or put pictures on the bookcases yet because I'm going to scale WAY back. Michael said that our house was beginning to look a bit like "Gramma's house" with way too many pictures on the walls. I had to agree with him. You know how it is: you get a picture frame here and there, and after so many years your house ends up with way too many things on the walls. I'd like to get a few original pieces, but I'm going to wait patiently for them and deal with bare walls in the meantime.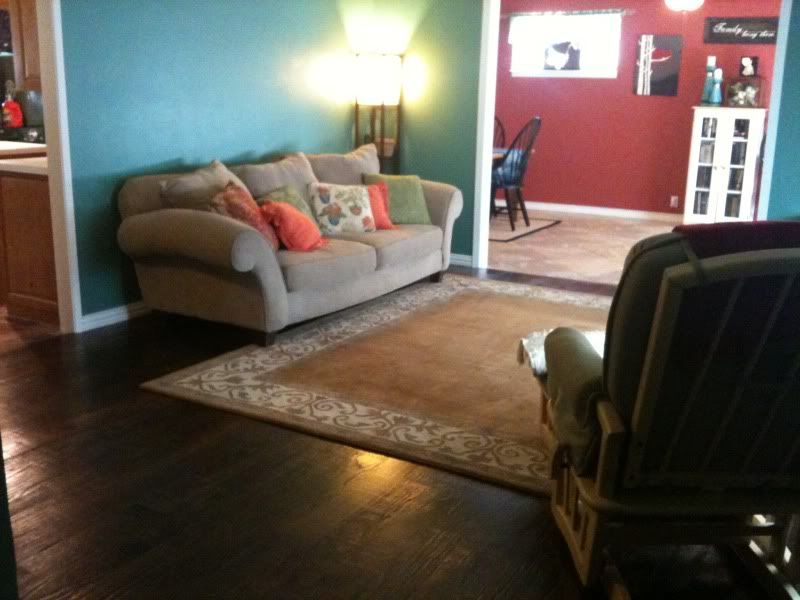 We also scaled back on furniture. That's another thing we'll just wait on. I like to get a good deal on that kind of thing, so I'll wait on it (we paid only $300 for that couch back in 2001, and it's been great for us). Plus, I'm not replacing my couch until the kids are old enough. I did manage to get most of the peanut butter and jelly off of the cushions as well as the TV. :)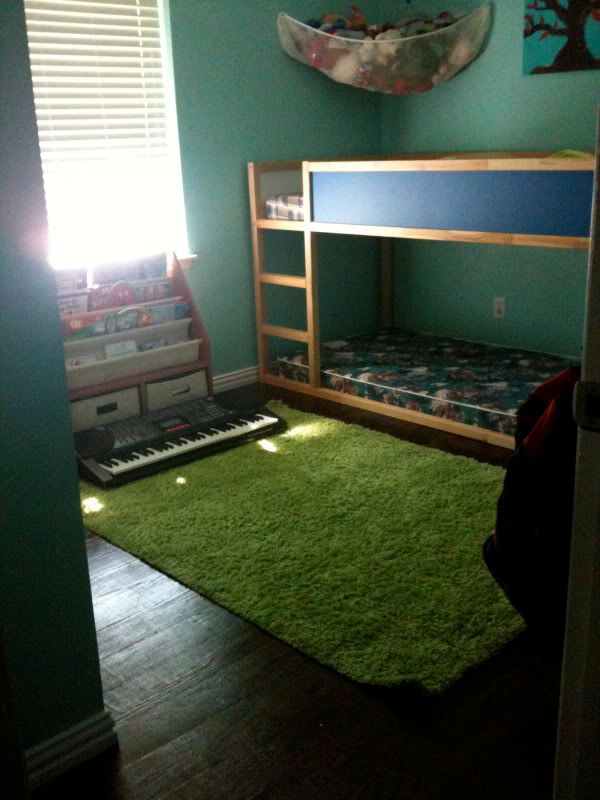 COMPLETE! Well, their bedding is still at the hotel, but you get the point. I thought about leaving the rug out of here, too, but I think they also need it in their room. I do think the green cushy rug looks good with the dark floors, though.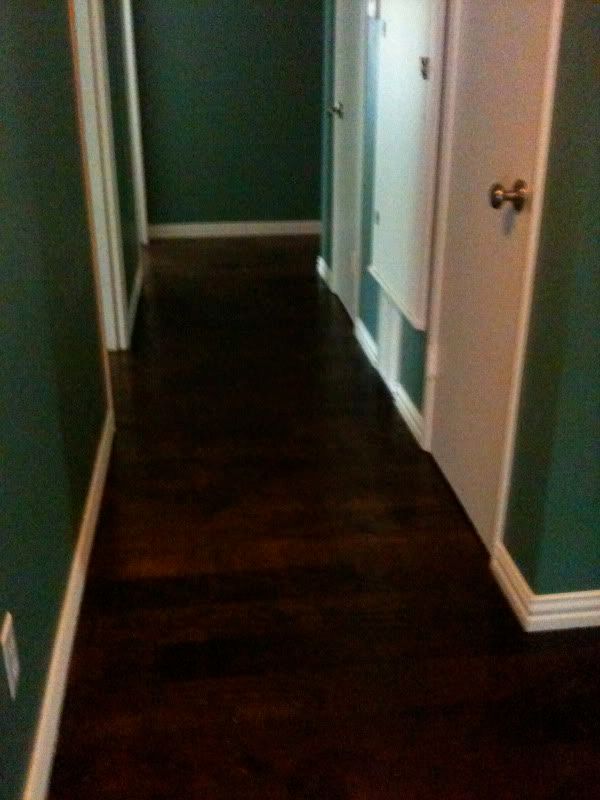 COMPLETE! This is looking down the hallway from the boys' room to ours. This was retextured and painted, too. I decided not to do runners in the hallway because I'm not ready to hide the floors just yet. I doubt we'll need them any time soon, though.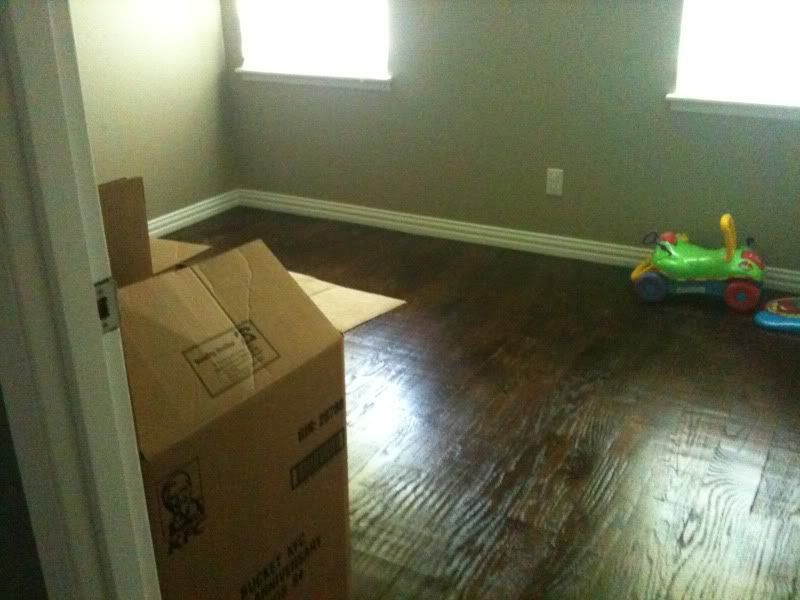 This is as complete as the nursery is going to get until WEDNESDAY!!! That's when we find out what we're having, then I go into baby decorating mode! BTW, I've had two dreams so far that we're having a boy, so we'll see!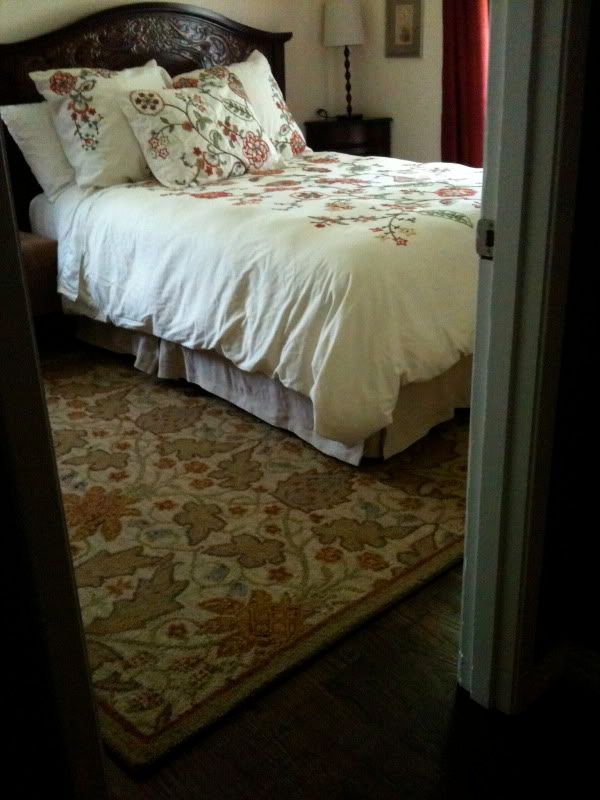 So my large rug takes up most of my bedroom, but we deemed it necessary. It's just nice having a soft rug to step out onto in the morning. It also keeps the bed from moving around since it's on casters...you know, like if we bump it while we're walking by. ;)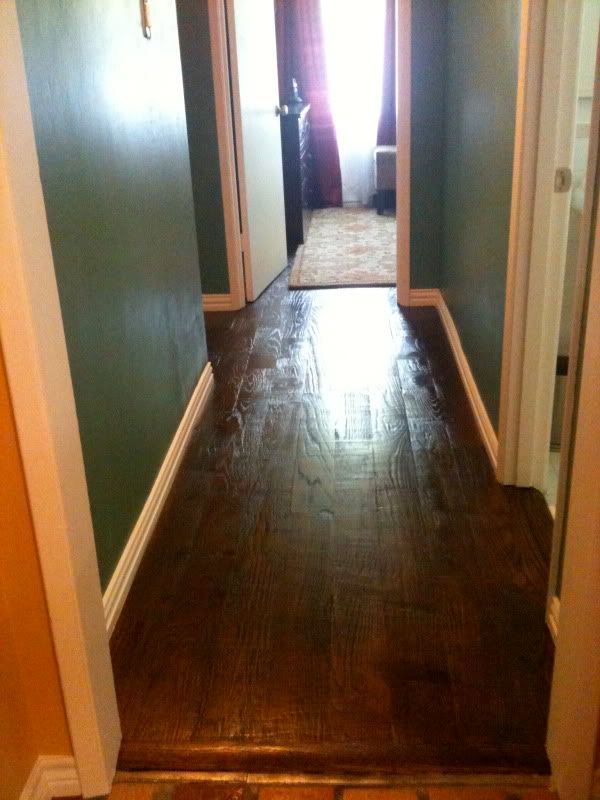 I really like this view of the hallway because that light from the window in our master bedroom is there almost all day, so it looks really pretty shining down the hallway into the kitchen. Note again the missing copper pipe being poorly hidden by an oversized hallway runner.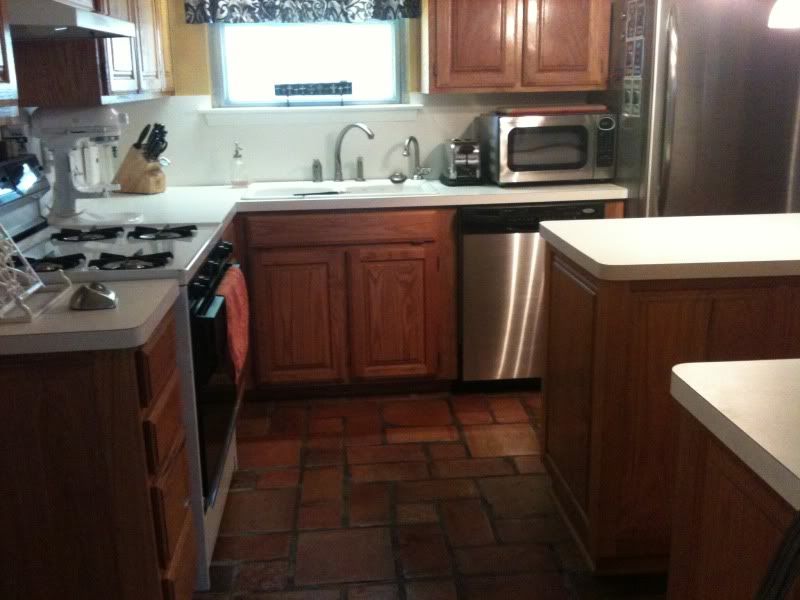 And again, I just wanted to take a picture of my clean kitchen. If you saw what it looked like before, you'd know why I wanted to photograph this clean moment. My next project is those cabinets! I'm tired of them being the same color as the floors, so I'm probably going paint them antique white with some new handles. Then we'll have to get new granite countertops, too. ;) I'm also really excited to start cooking again! Three weeks of eating out really makes you feel bloated and gross. Bleh!
For now, however, I'm going to be very content in my newish house. We're not going to do anything else until we're out of house debt, which will be in two years. I'm so thrilled with the way that it came out, and I'm really glad that it all happened in my second trimester while I have the energy to deal with it. What great timing! God was taking care of me. :) PLUS, Levi's swim lessons end tomorrow, and if we wouldn't have been able to go swimming everyday in the hotel pool, he may not have ever gotten it. What a great blessing!
Leave a comment and let me know what you think of the house! And let me know where I can get good, cheap art (original pieces, not reproductions).